Fulfillment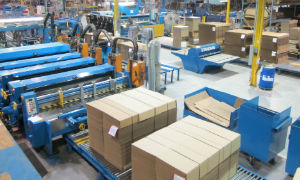 In addition to warehousing and storage operations, ESSA's fulfillment services include, shrink wrapping, repackaging, labeling, kitting, and packaging preparation for UPS, FEDEX, USPS, ltl shipping and FBA shipments.
Outsourcing your business to ESSA will allow you to concentrate on other key areas of your business. We are committed to providing our customers with the best quality service at the most competitive rates available.
Services
ESSA Warehouse's storage, fulfillment, and kitting operations will help drive down your operational costs and increase your profits. ESSA packaging consultants can help you reduce costs by optimizing your packaging. This is particularly important in the face of density-based pricing.
ESSA's strategic location, near the Canadian border 100 miles from Toronto and a day's drive from 50% of the population of the US makes ESSA's facility an ideal location to store and distribute your products. ESSA has experienced staff and friendly customer service.
ESSA can develop flexible, cost-effective solutions to meet individual customer needs. We can offer office space, lease warehouse space or use our economical pallet pricing. As a partner, ESSA becomes an extension of your business, with our staff operating behind the scenes and executing the fulfillment process, ESSA will manage your customer-oriented programs.
Contact ESSA Logistics today for more information about our fulfillment services.