Toronto, ON's Go-To Fulfillment Center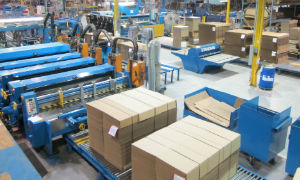 Do you need a fulfillment center to help your business grow? Do you wish you had more time to focus on growing your business rather than processing orders? If you said yes to any of these questions, then ESSA freight Services are for you! ESSA has a variety of fulfillment and shipping services that make the whole distribution process easy.
Order Fulfillment Services That Make A Difference
From storage and processing orders to shipping and tracking, ESSA's fulfillment center does it all. Our services allow you to free-up time that can be better spent on growing your business and operating in your specialized field. Why is this more effective? Because we are experts in fulfillment, distribution, shipping, tracking, & storage.
State-Of-The-Art Fulfillment Warehouse
Our fulfillment warehouse is equipped with all the staff, equipment, and items necessary to make sure your items get processed, packed, and shipped out on time. We even help by handling returns! With all the tools any fulfillment center could need at our disposal, we are able to find the most optimal packaging and shipping methods for your products to bring your costs down. Our warehouse used to store your products is a clean, dry, and heated warehouse, protecting your products from harsh conditions that could damage them.
Why ESSA?
We have proudly been in operation since 1946! With PLENTY of experience, we are true experts in the fulfillment industry. Since we free up your time and ultimately save on shipping costs, we are a partner and a catalyst for your business. Give us a call today if you have questions about our order fulfillment services. We look forward to becoming part of your team!