Richmond Hill, ON Logistics Management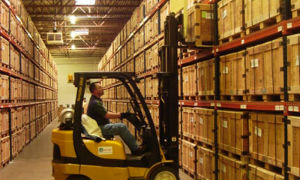 Invest in the only logistics team that can guarantee you a better bottom line. We believe that much in our logistics consulting and management.
We service Richmond Hill, ON and we speak both English and French. We keep Canadian and American industries reaching further and performing better than ever before.
We have devised efficient logistics for businesses of all kinds of types and sizes. If you have inventory and places to deliver it, we can help you realize a more cost-effective method of shipping and storage. We're the best in the business when it comes to consulting on and managing the logistics needs of our clients' businesses.
Call ESSA or connect with us via the contact page. We can start working to get you a better system in place right away. Put your biggest logistical challenges in our hands and we'll show you how it can be done faster and cheaper with ESSA.
#1 in Logistics Management
Put ESSA Logistics in the driver's seat with full-service logistics management. We will do the heavy lifting of managing your logistics and we will adjust our solutions along the way. Our "living and breathing" logistics grow and change with your business. That's what we called customized logistics!
The Safest Logistics Consulting
Treat your inventory like gold with our logistics consulting services. ESSA will provide you with a risk- and obligation-free review of your current operations, from your transportation costs and packaging, to internal operations and network optimization.
Inventory is electronically tracked-see your stuff from any device, anywhere in the world.
Minimize breakage, spillage and other product loss.
A fleet of refrigerated and non-refrigerated vans and trucks are supplemented by rail and sea solutions to take you further.
Canadian and American warehouses for easy storage, closer to your markets.
Climate controlled warehouse facilities that are cleaned to remove dust and foreign particles.
We grow your bottom line in every way we can. That's just one of our promises to you.
Contact us today to connect to the most trusted logistics consultants in the country.