Oakville, ON Warehousing Services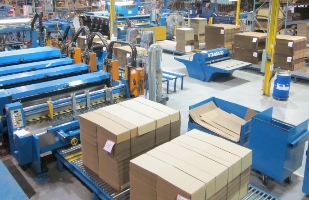 Are you looking for secure, reliable warehousing services in Oakville, ON? Need a warehousing company that's big enough to handle your high-volume cross-border shipping? Want to keep your inventory in a place that's centrally located within the Greater Toronto Area and provides easy access to local, national, and international trucking routes?
Here at ESSA Logistics, we're committed to supporting your company with our state-of-the-art shipping and warehousing services. Our team of logistics experts have the skills and experience needed to ensure your inventory is secured, properly stored, and electronically tracked from the moment it arrives at our facility in the Oakville area to when it's delivered to its final destination.
Reliable, Secure Warehousing From ESSA
Here at ESSA Logistics, we're proud to offer our customers access to the latest in warehousing services from our modern, environmentally-controlled facilities that include both standardized and refrigerated spaces.
Our multi-level inventory handling protocols include comprehensive safety checks to ensure your stock is always protected against damage or loss, and we can provide on-demand stock and inventory movement reports, so you'll always know exactly where your assets are.
Your Cross-Border Warehousing Company
As a full-service cross-border warehousing company, we maintain modern, secure warehousing facilities both in Oakville, ON and across the border in New York State. This multi-national approach to warehousing services allows us to provide you, our customer, with seamless shipping between Canada and the United States.
We also offer cross-border shipping consultation services and hands-on assistance with customs clearances to ensure your operations remain compliant with all the relevant CCRA and U.S. CBP rules and regulations, helping to prevent costly delays, penalties, and inventory seizures at the border.
Contact Us
To learn more about how ESSA Logistics can help you enjoy simple, secure and hassle-free cross-border warehousing services in Oakville, ON, call or email us today.