Markham, ON Warehousing Services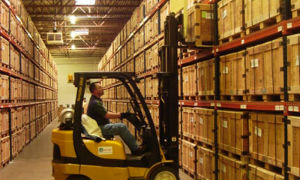 ESSA conveniently offers warehousing services right on the U.S.-Canada border. This can be a great help for businesses who ship products to both countries. We take care of all of the logistics for you to keep all of your products safe and secure. Conveniently located to both Toronto, ON and Buffalo, NY, our warehousing company provides the perfect launching point to ship your products throughout the United States and Canada.
How It Works
If you are on the Canadian side, you can store multiple product lines with us, and we will keep them separate for better organization. If you want to ship those products to the U.S., however, we will consolidate them into one larger group so that they can all pass through customs in one batch, saving time and money. Once on the American side, we will recategorize the products back into their groups for further storage or for shipping out. The same process works in reverse for American companies wishing to ship products to Canada.
About Our Warehouses
Through our warehousing company, you can rest assured that your products our in good hands. Our warehouses are secure and climate-controlled, protecting your goods from damage due to temperature fluctuations. We keep everything organized and take care of all the logistics for you so that you can focus on other aspects of running your business. We even give you a specific address in both countries so that you can use whichever one is needed for a particular transaction, virtually giving your business an "office" in both the U.S. and Canada.
Trust ESSA for All Your Warehousing Needs
Here at ESSA, we are proud to offer our warehousing services to customers on both sides of the border, including Markham, ON and the surrounding areas. Our team is highly professional and will make sure that your products make it safely across the border without any damage or loss. Your inventory will be electronically tracked from start to finish, and you can manage its progress through our convenient online portal. To learn more about our warehousing company, contact us now or give us a call at 1-800-627-3664.