Toronto, ON Logistics Management
Logistics management can be a hassle, especially if you don't own your own warehouse and don't have your own fleet of vehicles for shipping. This hassle is compounded if your business ships internationally. Avoid conflict completely by trusting all of your storage and shipping needs to ESSA Logistics. ESSA Logistics provides the best logistics management services in Toronto, ON and has been for almost 70 years. With that many years of experience and reputation, you know this is a company that you can trust with your logistic needs.
Providing Security for Your Goods
One of the main benefits of receiving logistics management in Toronto, ON from ESSA Logistics is that we provide security for all of your company's goods. Our warehouses are incredibly dry, clean, and incredibly secure. Additionally, we digitally track every single item that enters our warehouse, and this tracking is available to your company 24 hours a day via an online interface. Furthermore, tracking doesn't stop when your goods leave the building. You will receive constant updates of the location of your goods throughout the shipping process, so you can know exactly when your customers receive the products they purchased from you.
Shipping Options For Your Toronto, ON Business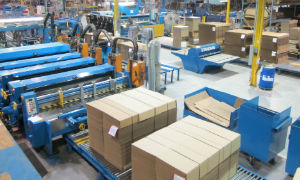 As part of our logistics management, we offer a variety of shipping options depending on the needs of your company. We have a full fleet of vans that can handle both refrigerated and non-refrigerated goods, perfect for nearby deliveries or for shuttling goods cross-border to our U.S. warehouses in Buffalo, NY. We also contract with trains and ships for both rail and ocean transportation. The ability to select from a variety of transportation options allows us to offer shipping services that fit your company's needs in terms of both shipping time and cost. This is just one of many advantages that makes us the best logistics management you could ask for.
For more information about logisitics management services by ESSA Logistics, contact us today!