Mississauga, ON Logistics Management
If you own a business in the Mississauga, ON area that often deals with a large amount of inventory, you know exactly how difficult logistics can be. It is even more complicated if your regularly deliver that inventory to locations across the country or internationally in the United States. Complications, if not handled by a company that specializes in logistics consulting and management can easily cost your business time and money. Avoid potential lost merchandise, lost income, or even customs penalties by enlisting the services of professional logistics management company like ESSA Logistics.
Logistics Services Offered
At ESSA Logistics we offer much more than simple inventory management services. We offer a wide selection of logistics management and consulting services. These services include:
Warehousing services - Modern warehouses in the Mississauga, ON area that are temperature controlled and dust free
Inventory tracking - Electronic tracking for every item in every warehouse and for items in transport that can be monitored via a private web page
International logistics consulting - Services that assist with international transportation of inventory, including customs compliance assistance and international crossdocking services
Transportation - ESSA Logistics commands a large fleet of vans, including refrigerated vans, and contracts with numerous transportation companies to lower transportation costs and increase delivery speeds
The combination of all of these services ensures that your Mississauga, ON business will get the best logistics management possible when you partner with ESSA Logistics.
Saving Money with ESSA Logistics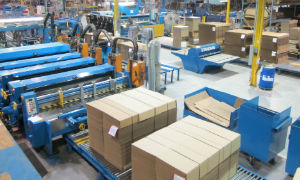 Your Mississauga, ON business should contract with ESSA Logistics, because our logistics management will save your business money in the long run. State of the art tracking procedures will ensure that your business never experiences lost inventory again while our complete transportation solution will speed up your deliveries while simultaneously saving you money on delivery costs. Your business will be an improvement of your company reputation that will put your business more in demand by your customers and clients. Contact ESSA Logistics today!