Brampton, ON Cross-Border Logistics Management
High-quality cross-border logistics management and services are critical to any business. With good logistics services, your Brampton, ON business will be more efficient, saving you money on all types of costs and improving your reputation with customers. Bad logistics management can not only cost you more but cause you to lose customers or clients. In order to ensure that your Brampton, ON business has the best cross-border logistics services and management available, turn to ESSA Freight Services.
How ESSA Freight Cross-Border logistics Services Makes Your Business More Efficient
ESSA Freight Services improves the efficiency of your cross-border logistics services in a number of different ways. First, we offer state-of-the-art warehousing services. These warehouses are climate controlled and cleaned using modern techniques that remove dust and foreign particles. This better protects your inventory from all types of damage. Furthermore, everything in our warehouses is electronically tracked from the second it enters the warehouse until it reaches its eventual destination. All tracked inventory can be monitored online via a password-protected web page unique to your business.
ESSA Freight Services also improves the efficiency of transportation. We maintain a fleet of vans, both refrigerated and regular, that can swiftly transport your inventory. Furthermore, we maintain contracts with rail and sea companies allowing ESSA use to transport swiftly by boat or rail. These contracts allow us to offer the lowest possible rates on domestic and international shipping and the best possible shipping times.
International Shipping and Cross-Border Logistics Management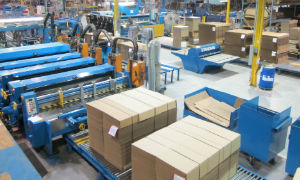 Another major advantage of working with ESSA Freight Services is that we specialize in international shipping. We maintain warehouses in both the US and Canada, allowing for easy storage in either country. We also are fully versed in all international regulations. As part of our logistics management services, we will confirm that all of your international shipping remains fully compliant throughout the shipping process. This makes your international shipping faster and ensures that your business isn't subject to fines due to mistakes.
If your Brampton, ON business is looking for cross-border logistics services and management that will increase the efficiency of your business and save you money, contact ESSA Freight Services today.