Hamilton, ON Cross Docking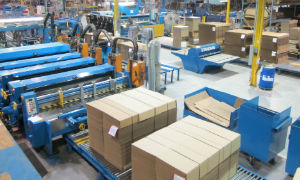 Small businesses rely on efficiency. Margins can often be tight and even small losses of efficiency can be costly to the bottom line. If you own a small business that regularly ships inventory, you are probably aware of how much variation can exist in shipping costs within your industry. That variation is exactly the type of thing that can cause inefficiency at the worst possible time. If you own a small business in the Hamilton, ON area and are looking for consistent shipping costs at a fair rate, the cross docking services of ESSA Logistics are ideal for safeguarding your budget.
Benefits of Cross Docking Services
Most smaller businesses send or receive shipments that do not fill an entire truck. This inefficient use of space costs the shipping company money and those costs are born by the small business. At ESSA Logistics, we are able to use cross docking services to share the loads between multiple businesses and highly reduce those extra costs. The result is that we can offer guaranteed pricing for any deliveries to or from your small business, regardless of quantity.
Furthermore, this service also improves the delivery speed of your inventory, especially when traveling across the U.S. - Canada border. Instead of your inventory languishing for hours or even days in a storage facility, it is moved directly from one van, truck, train car, or ship hold to another, without any storage delay. This results in faster transportation times that better serve you and your customers.
Complete Logistical Services
Providing efficiency and consistency to our customers is the core of the services we provide at ESSA Logistics. As part of our cross docking services, you also get complete logistical assistance when you ship with ESSA Logistics. This includes benefits like consultation and assistance with all foreign trade regulations, easily accessible and up-to-the-minute tracking software, and specialized transportation vehicles for specific types of inventory.
By engaging the services of ESSA Logistics, you aren't just getting consistent, fair prices and faster delivery, you are getting a complete logistical assistance package that will make all aspects of inventory management easier for your Hamilton, ON business.
Contact ESSA Logistics Today
Contact ESSA Logistics for more information on our cross docking services. You can use our online contact form, or call us at 1-800-627-3664.