Distribution Center Serving Toronto, ON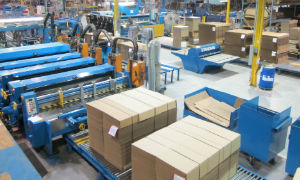 ESSA Freight Services provides distribution services to businesses in the Toronto, ON area. In today's world, quality customer service usually means fast and accurate shipping. For a business with a lot of products in high demand, this can become a daunting task to try to keep up with while maintaining other aspects of your business. Luckily, ESSA has a team of experts and over 70 years of experience in freight distribution services!
How Can Our Freight Distribution Services Help Your Business
Online retailers and e-commerce have become such a huge part of the business world. With so much shopping being done online, businesses need to have a quality online experience set up for their customers. This goes beyond the user experience of the e-commerce website and to the behind the scenes processing and distribution. For a successful, quick, and accurate order to be shipped out, the distribution process must be fully optimized, organized, and ready for action! If your business is very demand-driven with quick order turnover, we can handle it! We have product inventory and tracking parameters in place to ensure accurate accountability for your products. Rely on us to be the catalyst for your business.
Why Choose ESSA?
With our many decades of experience as a distribution center, we are experts in our field and offer complete storage, distribution, and order fulfillment services. We know the ins and outs of the field, making the process easier for you and reducing your stress and time spent on distribution.