Buffalo, NY Warehousing Services
Our Warehousing Benefits
When you're trying to keep track of a large volume of inventory, it's easy to lose inventory or deal with possible damage. Our Buffalo, NY warehousing services include state-of-the-art tracking systems that can track your inventory from the time it enters our warehouse until it reaches its final destination. You can be confident that all our warehouse employees are trained to provide exceptional care and attention to your inventory, preventing lost or damaged inventory. We provide refrigerated as well as climate-controlled warehousing space. Our employees follow procedures for cleaning to ensure your inventory is kept in a clean and safe space at all times.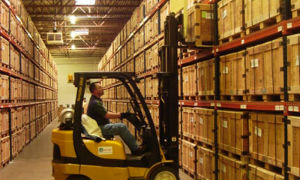 Cross-Border Warehousing Services
We take a modern approach to our warehousing services. We maintain warehouses in Canada as well as the United States which allows us to provide our customers with cross-border warehousing services. International shipping is easy and efficient. We will assist you with paperwork and provide consultation for your international shipments to ensure everything is in compliance with Canadian and United States laws. The biggest benefit to our cross-border warehousing services is that your inventory shipments will pass through customs quickly and without hassle which saves you time and money.
Fulfillment warehousing
We at Essa Freight Services understand that a lot of time and hard work goes into making the buying and shipping process a success. This is why we offer fulfillment warehousing to our customers in Buffalo, NY. With over 150,000 square feet of of space, we can reassure you that your products will be kept safe in , clean, dry and heated enviornment. No matter how big or how small your inventory is, we will be sure to provide adequate space to free up room at your headquarters where you can continue to focuse on day-to-day operations and growing your business.
Service You Can Depend On
If you're interested in more efficient shipping of your inventory, don't want to deal with the hassle of international shipping and you want to save time and money, then you need to contact ESSA Logistics to inquire about our Buffalo, NY warehousing services. We guarantee your satisfaction and it is our goal to provide you with services that are second to none. Don't deal with the headache of keeping track of inventory. Leave that to the professionals at ESSA Logistics. Get in touch with us today to see how we can help you.