Buffalo, NY Freight Shipping and Distribution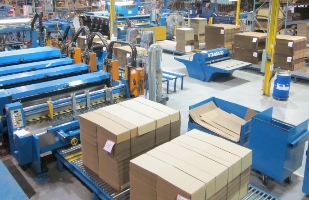 For many businesses operating in the Buffalo, NY area, distribution is one of the highest costs they have to deal with, especially if they regularly ship small loads. But freight shipping doesn't have to be expensive if you use a professional logistics company that specializes in LTL shipping. With a huge fleet of vehicles at its disposal and a high volume of shipping contracts, ESSA Logistics can provide freight distribution at a price that will permanently lower your costs.
Advantages of High Volume Freight Shipping
ESSA Logistics is a freight distribution company that handles a high volume of shipping throughout the year. This high volume is a boon for our clients, because it allows us to provide faster service at a lower cost.
The reason this lowers our prices and speeds up delivery is because it allows us to put more trucks on the road. This high volume lets us maintain a massive fleet of trucks in the United States and Canada. This makes it easy for us to provide LTL shipping, because there are always enough shipments to fill a truck, no matter where your freight is headed.
Exceptional Tracking Services
In addition to offering highly competitive rates and fast shipping, ESSA Logistics also offers regularly updated tracking services for your LTL shipping. This is a boon for you and for customers waiting for your products.
When you get freight shipping from ESSA Logistics, you will be assigned a personalized web page that will provide regularly updated tracking of your freight. We use multiple checkpoints during freight distribution and perform regular spot checks when freight is sitting in warehouses. This means that our tracking is as close to real time as possible.
International and Domestic Shipping and Distribution Experts
The other major advantage of freight distribution from ESSA Logistics is our familiarity with both domestic and international shipping laws. We can ensure that you are fully compliant with all shipping regulations and speed your freight through any bureaucracy. If your Buffalo, NY business wants fast, low cost LTL shipping from a company with decades of international and domestic shipping experience, contact ESSA Logistics today.