Brantford, ON Logistics Management
Meet the logistics team that keeps industry running smoothly across Canada and beyond. We proudly service beautiful Brantford, ON but our client base is nationwide. We are not only bilingual, but we consider ourselves fluent in all aspects of our nation's industries and their logistics needs.
ESSA Logistics of Brantford, ON is helping businesses of all size realize their goals through efficient logistics. We're the best in the business when it comes to consulting on and managing the logistics needs of Brantford's businesses.
Is logistics and logistics management a major part of your business? Then it's time to give ESSA a call. You can also contact us through the contact page of this site. You don't have to make any commitments to us, but we do want to show you how much more efficient you could be just by switching to ESSA's management and consulting services.
Logistics Management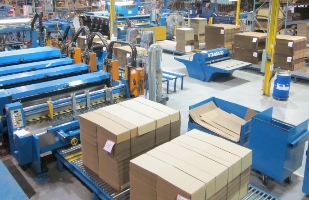 Get where you're going faster when you put ESSA Logistics in the driver's seat. We've got logistics management down to a fine science. We will hold a conference on a regular basis to talk about your business growth and changing needs, so our services always stay relevant.
We grow the scope of our services regularly to meet the changes needs of Canadian industry. Throw us your toughest challenge and we'll rise to it. It's no wonder we move more stuff, more efficiently than the competition. They just can't catch up!
The Safest Logistics Consulting
Protect your inventory with our full consulting services. We will show you how to bring even the most challenging cargo from Point A to Point B, flawlessly. Watch your bottom line grow as you transport more, faster.
Plus, everything at the ESSA Logistics warehouse in Brantford, ON is electronically tracked. You, the business owner, can log on at any time and track a shipment from our warehouse to anywhere else in the world.
You will work with a dedicated consultant and team who will know your business inside and out. Want to find out more? Contact us today to connect to the most trusted logistics consultants in the country.